Get link

Facebook

Twitter

Pinterest

Email

Other Apps
At my best guess, embarrassment would have been my ultimate motivation. There are no major confessions being stated, no graphic details to unveil. Week after week, as I carried our overflowing blue recyclable can to the curbside, there was inevitably a trail of plastic bottles creating a horrifying soundtrack to this bi-weekly ritual. Enough was enough. Deciding then and there that, while I am proud of my family for being avid water drinkers and faithful recyclers, we could do better than simply taking an Earth Day pledge for a greener tomorrow. Consider these Earth-Friendly Products from FUEL for sustainability of a global green environment.
Thank you to the FUEL team for sponsoring this post with FUEL promotional products for the purpose of facilitating this advertorial. This content may contain affiliate links.

Earth-Friendly Products FUEL Sustainability
Earth Day has to be every day if we have any intentions of allowing future generations to have the opportunity to reap the benefits of our planet. Observing Earth Day is an annual vehicle of change, an action toward raising awareness of environmental concerns, motivating and inspiring others to make a commitment to implementing changes on a personal level, as well as on a global level.
Innovative and eco-friendly, Trudeau's FUEL product line "offers small changes we can make every day in the way we eat and drink that truly have a global effect on the planet". Our family made the change to opting to use reusable food and beverage containers for traveling with food outside of our home. We no longer buy disposable, plastic baggies for snacks and we carry our favorite reusable water bottles to school, recreational activities, and especially on vacation. (Remember to always carry empty, labeled water bottles into the airport and fill up once inside!)
Aside from giving an eco-friendly advantage, the economic advantages are also motivating factors for committing to these changes. Investing in quality, reusable containers, refillable water bottles, and reusable snack bags save money while also saving the Earth. We live a "crunchy" life. Think in terms of the free-spirited, healthy living, animal-friendly, environmentally conscious, nature-loving, let's save the world, people power- kinda crunchy. Think crunchy, as in granola is in my reusable snack bag.

FUEL features a line of environmentally-friendly food and beverage storage containers for green living options. As an unashamed, "Crunchy Mama", my family and I strive to protect our natural resources, by making healthier, greener decisions. Trudeau's FUEL products are designed to minimize the overall environmental impact factored during each product's lifecycle and
promoting carrying and consuming waste-free meals. FUEL seamlessly combines the functions of product innovation and durable construction to keep foods fresh while being
easy to carry, clean, and re-use.
As a recognized, award-winning brand, FUEL has won the prestigious "Sustainable Development" award for its eco-design logic and materials. Favorably, all FUEL products are BPA-free, include a lifetime warranty and are available at supermarkets, specialty, and chain stores, and select retailers nationwide.
FUEL Salad On the Go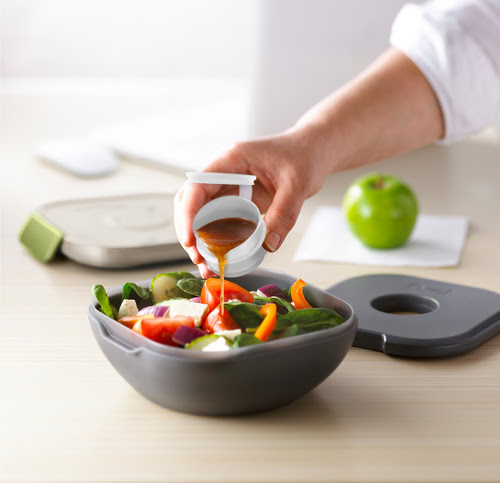 Making sure you and your family get the appropriate serving of vegetables on a daily basis can be a challenge, but FUEL Salad on the Go makes packing a salad easier and tastier than ever. The container features an integrated ice pack to keep veggies cool, fresh, and crisp. The top lid comes with a salad dressing container that locks right in, making it convenient to pack your favorite dressing without having to worry about a mess.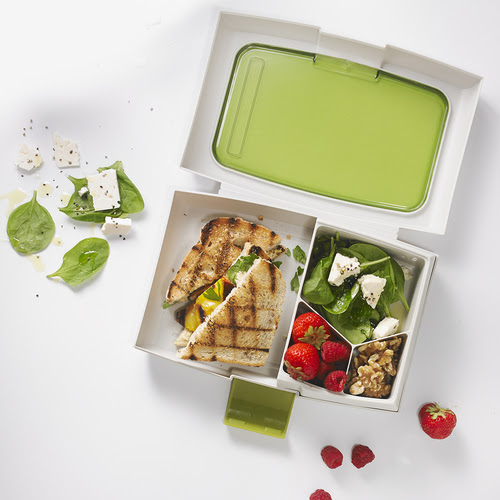 Get a full four-course meal with the FUEL Bento Box. This flexible, multifunctional container is perfect for designing a well-balanced meal and allows for some creative and delicious food pairings. The removable inner partitions provide clean separation between food items. Use this all-in-one container to pack fruits, veggies, proteins, salty snacks, or a sweet treat. Microwave safe, so you can heat conveniently heat up your meal
.
FUEL Food to Go Container
Regular plastic containers and cutlery don't exactly have the best lifespan as they become cloudy, scratched and degraded, making them more likely to leach chemicals into food. The 34 oz. capacity FUEL Food to Go Container is a sturdy, BPA-free case that can hold both light and hearty meals, making it a breeze to take a fulfilling lunch to work or school. The container comes equipped with a removable cutlery case that contains a strong reusable fork and knife so you'll never forget to take utensils with you. Microwave and dishwasher safe.
FUEL Snack'n Dip
For all ages, dipping veggies or crackers into sauces, spreads, and dips makes healthy snacks much more enjoyable and tasty. The FUEL Snack'n Dip comes with a 5 oz. container to store snacks and a 2 oz. dipping compartment, making it easy to take nutritious treats on the go. A handy spreader is included snaps into the inner lid when not in use. From hummus and carrots to guacamole and chips to apples and peanut butter, the snacking options are endless!
FUEL Classic Bag
The iconic brown bag lunch gets a trendy makeover with this lightweight, reusable eco-friendly Classic Bag. Perfectly sized to carry both food and drinks. Roll down to desired size with Velcro strip to secure shut. Tear resistant, BPA-free, easy to clean material.
FUEL Snack Pocket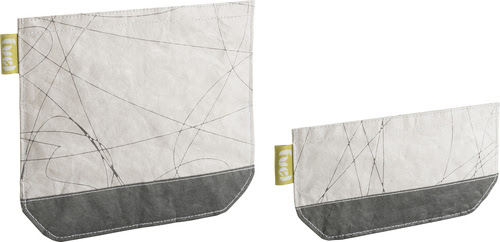 Fuel's Snack Pockets are lined with an easy clean, lightweight, and tear-resistant material. A set of two includes a small and large pocket and are great for snack solutions like trail mix when on the go. BPA -free.
FUEL Condiment Set
This "perfect sized" Condiment Set includes three colored containers that are great to hold salad dressings, condiments, sauces, dips, nuts, etc. Each has a 1.5 oz. capacity. Great to manage meal sizes and snack portions. Leak-proof and BPA free.
Stainless Steel Sport Bottle and Flo Tritan Bottle
Bottled water is an environmental evil. The water isn't much different than tap water; it costs to transport it; chemicals can leach into your water and the plastic is piling up in landfills. Earth Day is a good time to ditch the convenience of just grabbing a new bottle of water at the store and instead use one great reusable bottle and refill it day after day!
Make sure the bottle is BPA free (Bisphenol A, an estrogen-like compound found in hard plastics that has been shown to cause developmental problems in infants and children). Here FUEL offers two fill'er up choices made of durable Tritan plastic or stainless steel.
FUEL Food N' Beverage
The multipurpose 12 oz. FUEL Food'N Beverage container carries it all. It is made to hold both liquids and solids: soups, stews, fruit salad, snacks, and even beverages. Its sturdy double wall construction prevents spillage, while the lid doubles as a bowl or serving cup and the mid-section can be used as a snack container. Its double wall construction allows for no heat retention and is also microwave safe. Perfect for storing small bites and a quick sip during sporting events, a walk in the park, or on the morning commute.
FUEL Cutlery Set in Pouch
Never forget your fork and knife and have to throw away (and clutter landfills) with plastic throw away cutlery ever again. The handy zippered pouch keeps your utensils sanitary in a backpack or handbag, so eating anywhere and cutting down on waste is easier than ever.
I was compensated with FUEL promotional items for the purpose of facilitating this advertorial. As the owner of this blog, niecyisms and nestlings, I am compensated to provide my opinion on products, services, websites and various other topics. This blog may contain affiliate links. Even though, as the writer/owner of this blog receiving compensation for posts or advertisements, I will always give my honest opinions, findings, beliefs or experiences on those topics or products. This blog abides by word of mouth marketing standards. I believe in the honesty of relationship, opinion and identity. The views and opinions expressed on this blog are purely my own. Any product claim, statistic, quote or other representation about a product or service should be verified with the manufacturer, provider or party in question
.
Get link

Facebook

Twitter

Pinterest

Email

Other Apps